Premier and award winning regional technology leader, Epic Technology Group, synonymous with innovative and superior 'FinTech' Solutions, brought about huge excitement at the Seamless Payment Exhibition held in the Middle East recently with its flagship product the 'Epic Mobile Wallet'. This one-of-a-kind technology brought about countless inquiries from the banking fraternity across the Middle East and African regions.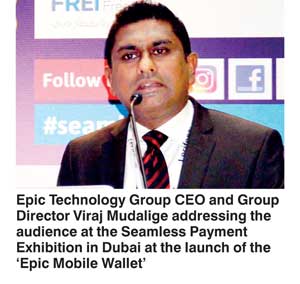 Invited by Terrapin Middle East for an exclusive 'Demo Theatre' presentation at the Seamless Payment exhibition on the Epic Mobile Wallet, Epic Technology Group Director and CEO Viraj Mudalige stated to a packed and eager audience, "I want the region to get a first-hand experience of Epic's innovative and disruptive Fintech Solution The Epic Mobile Wallet, which by far is a highly inventive and a one-of-its-kind wallet solution. I am extremely proud of the team behind this product which has attracted so many hi-net worth individuals and companies here in the Middle East and we are immensely delighted and excited to state that we are presently in discussions on how best we can deploy the solution to complement their businesses."
Mudalige speaking further at the Demo Theatre stated, "The single purpose of this innovation is to bridge the digital divide in the payment ecosystem, which is increasing day by day. This innovative product is the world's first ever single application for payer and payee bringing together all CASA Accounts, debit and credit cards into one common platform. What is more, it also facilitates merchants to accept payments in different modes such as via NFC, dynamic and static QR codes as we well as time and event based tokens." Mudalige further went on to state, "The Epic Mobile Wallet uses multiple authentication techniques in the form of Face recognition, Finger Print and Voice recognition giving users multiple authentication mechanisms. All these embedded features make it a truly distinctive product in the market."
"When we created this unique product our main objective was to deliver a user friendly digital lifestyle solution which would enable our  customers to share their bills by splitting between wallet users, send and receive money, initiate  card less transactions, enable wallet top ups with their CASA accounts, make loan requests, etc. just to name a few." "We also looked at the untapped merchant market taking into account Terminalized Merchants (NFC and Mobile Number based payments), Nonterminalized Merchants (those using dynamic QR code) and and finally Grass Root Level Merchants (using static QR code) because we want this product to cater to all segments within the socioeconomic pyramid," concluded Mudalige.
'Epicians' are driven by a unique out-of-the box approach to developing advanced yet affordable technology solutions that change the traditional landscape of enterprise content management; secure mobile communication, mobile enterprise automation, and information security domains. Epic's innovative technology solutions are designed and created by a talent pool of over 200 in-house engineers and experts. Epic also has its very own dedicated Research and Innovation Centre with dedicated researchers who continue to push the limits of innovative world-class technology.  Today Epic Technology Group owns an ultra-modern office infrastructure equipped with world-class software development, research and recreation facilities providing technocrats an ideal environment to work and utilise their skills passionately and creatively. Epic heavily invests in continuous knowledge assimilation and competence building, which they believe to be the pillars of roaring success over the past 19 years. At Epic, employees are nurtured thoroughly on domain expertise and are provided with ample opportunities to develop core and distinct competencies in preferred domains. Its talented workforce constantly contributes towards bringing a clear differentiation in customer satisfaction and product supremacy.
Epic is an award winning Technology Leader of international repute that 'bridges humans and technology' through innovative solutions. Its state-of-the-art software development centre in Sri Lanka is manned by a dedicated R&D team, and the Global Business Development and Service Units operating in Malaysia, Singapore and Japan. EPIC manages all aspects of the product development cycle including R&D, designing, prototyping, development, testing, maintenance, and support, while adopting its products to multiple platforms, devices, and databases. All products and solutions created by Epic meet international and industry standards as Epic is certified for ISO 9001-2008, ISO 27001-2013 and CMMi Level 3.
Seamless Payments Middle East, the region's largest exhibition and conference for e-commerce and secure payments held annually in Dubai attracts large number of visitors from the UAE, Africa, South Asia and Europe. Last year on an average 10,500 participants attended this exhibition; and this year with leading Industry experts who were at the event, organisers confirmed a participation of 12,000 on both days.